I'm all in with Christmas cards. Even in these days of emailed Christmas letters, I still do the cards and the enclosed printed letters and the personal notes.
I know. There are other simpler ways to do this. And yes, the price of international stamps has gone up to $1.15. But I like sending out (and receiving) Christmas cards. And you have to admit, it's less fattening than baking cookies.
I like choosing cards from the UNICEF catalog.
I like summing up my year in a few paragraphs.
I like carrying the cards, one stack at a time, to the mailbox.
Most of all, though, I like keeping in touch with those friends and relatives I may not see all year, even in some cases for decades.
My senior year of college five of us girls (We called ourselves girls back then) roomed together in an off-campus apartment. Over the years since then, Mary and I have shared our lives in Christmas letters and emails, and a couple of times in person. Unfortunately we've lost track of the other three. For me now, Annie, Gail, and Madeline remain frozen memories from the days before our 1965 graduation. I wonder what their lives have become. I wish we'd kept in touch.
When you're an expatriate, as my husband and children and I were for many years, people come and go a lot. And when they go, it's usually to some distant place. You can make new friends, but they don't really replace the old friends.
Like Doreen. She and I were friends in Manila for many years. Our kids grew up together; we vacationed together and partied together. It would have been a shame to lose track of her when she moved.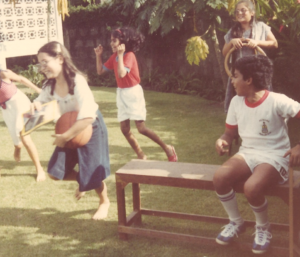 After she left Manila, Doreen lived in Singapore and India, in London and again in India. Still, it's easy to keep track of someone like Doreen, Christmas card or not. If you knew her, you'd know what I mean.
I could go on and on about the people on my Christmas card list. But the mailman just came, and I want to go check my mailbox to see if there are any Christmas cards among the bills and advertisements.